Let's Roll er I mean Roll it! USA! USA! USA! USA! tools!
Bush Hosting "United 93" Screening At WH… The film focuses on the tragic drama aboard United Flight 93, the plane that crashed in rural Pennsylvania after passengers fought back against their hijackers.
Um, How did Flight 93's wreckage managed to come down in three locations up to 8 miles apart unless the plane was uh shot down?
Dubya Dubya Three says War of terror is 'World War III'
http://www.breitbart.com/news/2006/05/05/060505220719.qnjzncm8.html
US XXXXXXXXX George WMD Bush said the September 11 revolt of passengers against their hijackers on board Flight 93 had struck the first blow of "World War III?" The prez has repeatedly praised the heroism of the passengers in fighting back and so launching the first blow of what he usually calls the "war of terror".
FLASHBACK - US XXXXXXXXX George WMD Bush today declared major fighting over in Iraq, calling it "one victory in a war on terror" which he said would continue until terrorists are defeated? http://www.smh.com.au/articles/2003/05/02/1051382078205.html "In the Battle of Iraq, the United States and our allies have prevailed," Bush said. Bush acknowledged however that several key war aims have yet to be achieved, including ferreting out the banned chemical and biological weapons he made central to his case for launching a pre-emptive war; setting Iraq on course for democracy; and rebuilding the bloodied nation's battered infrastructure. Our coalition will stay until our work is done."
Coalition in Iraq continues to shrink South Korea, Japan are next to quit Iraq; 'It's a coalition of the dwindling.'
05/30/06 MSNBC: Deadly car bomb - At least 8 killed in Hillah
A suicide car bomber killed at least eight people in the Iraqi town of Hillah on Tuesday, police sources said, adding the death toll was expected to rise
05/30/06 AP: Iraq Says It Has Captured Key Militant
The Iraqi government said Tuesday it has captured a key terror suspect who allegedly confessed to hundreds of beheadings. Ahmed Hussein Dabash Samir al-Batawi was arrested by a terrorist combat unit on Monday in Baghdad...
05/30/06 katu: Soldier From Estacada Killed Serving In Iraq
Jeremy Loveless, 25, was reportedly killed by hostile gunfire in Mosul after he left the cover of his medical Stryker vehicle. The exact date of his death has not yet been released.
05/30/06 SalisburyPost: Army medic still suffering from wartime injury
Sgt. James "Jay" A. Dolph...Frustrated by nearly a year of pain their son endured since he tore a tendon in his left ankle while serving as a medic with an Army SWAT team in Iraq
05/30/06 AP: Mortar rounds fired from a car kill 2 in Interior Ministry building
Authorities say the mortar rounds were fired by remote control from a car parked near a soccer stadium close to the park. One of the rounds hit the third floor of the building, killing two female employees.
05/30/06 Centcom: MND-B SOLDIER KILLED IN VBIED ATTACK (confirmed)
One MND-B Soldier, an Iraqi contractor and two members of a CBS news crew, embedded with the 4th Infantry Division, were killed during a combined patrol with U.S. and Iraqi Soldiers when a vehicle borne improvised explosive device struck...
05/30/06 Centcom: TASK FORCE BAND OF BROTHERS SOLDIER KILLED
A Soldier from 172nd Stryker Brigade Combat Team, part of Task Force Band of Brothers, was killed May 29 in Mosul.
05/30/06 MNF: Terrorists destroy Lutafiyah City Hall
Terrorists bombed the construction site of the future Lutafiyah City Hall at approximately 11:15 p.m. May 29.
05/30/06 Ministry of Defense Identifies fatalities
Two Soldiers from the Queen's Dragoon Guards were killed in an attack by an improvised explosive device in Basra on 28 May 2006: Lieutenant Tom Mildinhall and Lance Corporal Paul Farrelly
05/30/06 Reuters: Gunmen kidnap employee of Oil Protection Facility in Balad
Gunmen kidnapped an employee of the Oil Protection Facility in Balad, 90 km (55 miles) north of Baghdad, the Joint Coordination Centre said.
05/30/06 Reuters: Gunmen kill preacher in Sunni Mosque
Gunmen killed the preacher of a Sunni Mosque in the Shula district of the capital, police said.
05/30/06 Reuters: Two Brothers killed in Samarra
Gunmen killed two brothers on Monday night while they were walking in the street in the city of Samarra, 100 km (60 miles) north of Baghdad, the Joint Coordination Centre run by the U.S. and Iraqi military, said.
05/30/06 Reuters: Two members of Mehdi Army militia killed in Aziziya
Two people from the Mehdi Army militia run by fiery Shi'ite cleric Moqtada al-Sadr were wounded on Monday night during clashes with members from the Iraqi Accordance Front, a Sunni Arab Umbrella Group, in Aziziya, a small town between Baghdad and Kut
05/30/06 Reuters: Italy pledges commitment to Iraq
Italy will redouble its efforts to help the reconstruction of Iraq even after withdrawing its troops this year, new Defense Minister Arturo Parisi said.
05/30/06 AP: New details found in deaths of Iraqis
Military investigators piecing together what happened in the Iraqi town of Haditha on Nov. 19 -- when Marines allegedly killed two dozen civilians -- have access to video shot by an unmanned drone aircraft that was circling overhead...
05/30/06 NYTimes: More U.S. troops move into Iraq
The top American commander in Iraq has decided to move reserve troops now deployed in Kuwait into the volatile Anbar province in western Iraq to help quell a surge in insurgents attacks, two American officials said Monday.
05/30/06 AP: Nearly 300 prisoners released from prisons across Iraq
Nearly 300 prisoners who had been suspected of ties to the insurgency have been released from three U-S detention centers in Iraq.
05/30/06 AP: Three bodies found in Baghdad
Police also say they found the bodies of three blindfolded and handcuffed men who had been tortured and shot in the head. The bodies were found in central and southern Baghdad.
05/30/06 AP: Roadside bomb kills police officer, civilian dies when mortar hits
The roadside bomb in southern Baghdad killed one police officer and wounded four. In the interior ministry killing, police said a car loaded with mortar rounds and explosives suddenly exploded, scattering shells over a large area.
05/30/06 insidebayarea: Amputee soldier set to start better life with program's aid
Sgt. Joey Bozik...28, lost his right arm, left leg above the knee, and right leg below the knee when the Humvee he was riding in was struck by a roadside bomb on Oct. 27, 2004.
05/29/06 mediabistro: Doctors Remove Shrapnel From Dozier's Head
"She was hit pretty badly to her lower body and her legs. And I believe she was -- received a shrapnel wound to her head," Baghdad bureau producer Agnes Reau said.
05/29/06 FreshAir: 'Baghdad ER:' The Wounded and the Healers
The new documentary Baghdad ER goes inside the 86th Combat Support Hospital in Iraq, the Army's premier medical facility in Iraq. Shot over two months in 2005, the film tells the stories of the hospital's doctors and wounded soldiers.
05/29/06 MSNBC: Marines' families discuss Haditha fallout
Two Marines were severely traumatized when told to photograph the corpses of men, women and children after members of their unit allegedly killed as many as two dozen unarmed Iraqi civilians, their families said Monday.
05/29/06 Reuters: Policeman killed in Falluja
A roadside bomb killed a policemen and wounded two soldiers near Falluja, police said.
05/29/06 AP: Dozier critical after surgery for Iraqi injuries
CBS correspondent Kimberly Dozier is reported to be in critical condition at a U.S. military hospital in Baghdad, after being injured in an attack that left two of her crew members dead.
05/29/06 Reuters: US soldier killed in car bomb attack
An unnamed U.S. soldier and an Iraqi civilian working with the military were killed along with the network's London-based cameraman Paul Douglas, 48, and soundman James Brolan, 42.
05/29/06 Reuters: Two CBS journalists among four dead in Baghdad bomb
Two British journalists working for...CBS were among four people killed when a car bomb hit a U.S. military patrol in Baghdad on Monday. American CBS correspondent Kimberly Dozier was seriously wounded and 6 US soldiers were injured
05/29/06 MOD: British fatalities confirmed
Two Soldiers from the Queen's Dragoon Guards were killed in what appears to have been an attack by an improvised explosive device in Basra on 28 May 2006.
05/29/06 KUNA: 25 militants arrested in Iraq
Iraqi Interior Ministry announced Monday 25 militants have been arrested, including three al-Qaeda members, during the past 24 hours in Iraq. The statement issued Monday said that joint Iraqi and Multi National Forces arrested 17 militants in Al-Mosul
05/29/06 KUNA: Civilian injured by bomb in Kirkuk
An Iraqi civilian was injured when a car exploded in Kirkuk. A police source told KUNA, the explosive device was planted roadside when it blew up a civilian pickup early this morning.
05/29/06 AP: 2 policemn killed in Baghdad, 2 killed in Amarah
In other violence, gunmen killed two police officers when they attacked a convoy in western Baghdad. Another group seriously wounded police colonels in nearby Ghazaliyah. Two other police officers, identified as former Baathists, were killed in Amarah
05/29/06 Reuters: Six beheaded corpse found near Kut
Police found six beheaded corpses wearing military uniforms in the small towns of Numaniya, Suwayra and Shihaimiya near Kut, 170 km southeast of Baghdad, police said. It was not clear if the three incidents were linked.
05/29/06 Reuters: Student killed in Mosul
Gunmen shot dead a student in the city of Mosul, 390 km (240 miles) north of Baghdad, police said...A roadside bomb targeting an Iraqi army patrol wounded three soldiers in Mosul, police said.
05/29/06 Reuters: Female member of parliament attacked near Baghdad's Green Zone
A Shi'ite woman member of parliament, Gufran al- Saidi, was wounded in a shooting incident near Baghdad's Green Zone, police sources said. They had no further details. Saidi is a supporter of radical cleric Moqtada al-Sadr.
05/29/06 Reuters: Gunmen kill Iraqi soldier near the town of Dujail
Gunmen opened fire at an army checkpoint on Saturday, killing one soldier and wounding two others near the town of Dujail... The dead soldier was the son of Mizhir Abdullah Kathim Ruwaid, one of the co-accused in the trial of Saddam Hussein
...Until Bush provides a credible justification for the territorial pissings in Iraq, he must be brought to swift justice for the war crimes perpetrated on the Iraqi people...

As details of the atrocities in Haditha continue to surface in the media, it is clear that George Bush is either completely divorced from reality or simply incapable of grasping the catastrophe he has created. In fact, he is as culpable in the deaths of the "24 unarmed Iraqis" as if he had put the gun to their heads' and shot them one by one.
The administration makes no attempt to defend its war. Instead, it has stepped up its public relations campaign to connect the conflict with the hobgoblin of Islamic fanaticism. This is a bad plan that appears to be backfiring as Bush's approval ratings continue to plummet. All the same, the war on terror is now regularly invoked to rationalize the systematic destruction of Iraqi society as well as the skyrocketing civilian death toll; now well over 100,000 Iraqis.
Bush's commencement speech this weekend at West Point is a good example of White House attempts to promote its bogus anti-terror crusade while diverting attention from America's depredations in Iraq. The speech gives us a way to compare Bush's sales pitch for war with the reality on the ground. It also allows us to ask whether Bush is a delusional megalomaniac who should not be held accountable for his decisions or a calculating despot who fully understands the savagery he's unleashed on the world.
President Bush Graduation Speech at West Point (5-27-06)
Bush speech: "America will fight the terrorists on every battlefront. And we will not rest until this threat to our country has been removed…Against such an enemy there is only one effective response: We will never back down, we will never give in, and we will never accept anything less than complete victory."
The reality: Photographs taken by American military intelligence have provided crucial evidence that up to 24 Iraqis were massacred by marines in Haditha. One portrays an Iraqi mother and young child, kneeling on the floor, as if in prayer. They have been shot dead at close range. The pictures show other victims, shot execution-style in the head and chest in their homes. An American government official said they revealed that the marines involved had "suffered a total breakdown in morality and leadership".( LA Times)
Bush speech: "This is only the beginning. The message has spread from Damascus to Tehran that the future belongs to freedom, and we will not rest until the promise of liberty reaches every people in every nation."
The reality: The killings are emerging as the worst known American atrocity of the Iraq war. At least seven women and three children were among those killed. Witness accounts obtained by The Sunday Times suggest the toll of children may be as high as six. "This one is ugly," a US military official said. The evidence points fatefully to a murder spree by marines. The stain on the American military could prove harder to erase than the photographs of sadistic prisoner abuse at Abu Ghraib. Comparisons are being made to the My Lai massacre in 1968 in Vietnam, in which American soldiers slaughtered up to 500 villagers."
Bush speech: "Difficult challenges remain in both Afghanistan and Iraq, but America is safer and the world is more secure because these two countries are now democracies and they are allies in the cause of freedom and peace…With the formation of this unity government, the world has seen the beginning of something new - a constitutional democracy in the heart of the Middle East."
The reality: Yunis Salim Khafif, pleaded for his life in English, shouting: "I am a friend, I am good. I am good" …. "But they killed him, his wife and daughters." (LA Times).
Bush speech: ""We're still in the early stages of this struggle for freedom and, like the first years of the Cold War, we've seen setbacks and challenges and days that have tested America's resolve. Yet we've also seen days of victory and hope.
The reality: "About 10 marines entered the home of a 76-year-old Abdul Hameed Ali Hassan, whose leg had been amputated because of diabetes. He was a blind old man in a wheelchair. They threw hand grenades and began firing in all directions. Hassan's granddaughter, 10 year old Iman Waleed, was in her nightclothes. Her father was in a nearby room reading the Koran. The Marines entered the room and killed him. Then they gathered the rest of the family into one room —threw in two hand grenades and started shooting them. The adults tried to protect the children with their bodies, but all were slain. (LA Times)
The massacre in Haditha reveals the yawning chasm between Bush's promises of freedom and democracy and the brutal realities of occupation, subjugation and war crimes. Haditha strips away the fabric of lies which masks the true motives behind the war in Iraq. As the details continue to appear in the news, the Bush administration is sure to lose whatever is left of its tattered credibility and moral authority. Public support will vanish accordingly.
Haditha is summary-event, much like My Lai. It epitomizes 6 years of failed leadership, unprovoked aggression, and human rights abuse. It reframes the war as a vicious and excessive attack on a civilian population to establish control over vital resources. It was executed with the cynical belief that the mountains of carnage could be papered-over by jingoism and propaganda. That illusion has begun to shatter; exposing the ocean of suffering it has left in its wake.
Who'll believe Bush's rosy scenarios after they've heard the testimony of children who watched while their parents and siblings were butchered in front of their own eyes?

Lawmakers 'brace' for Haditha fallout
Military investigators strongly suspect that what happened in the western Iraqi city of Haditha last November was a rampage by a small number of Marines who snapped after one of their own was killed by a roadside bomb?

'Her head was... spattered on his boots' - Drone taped

UK paper prints massacre cartoon: Bodies as stripes

Bush 'planted fake news stories on American TV'
Federal authorities are actively investigating dozens of American television stations for broadcasting items produced by the Bush administration and major corporations, and passing them off as normal news. Some of the fake news segments talked up success in the war in Iraq, or promoted the companies' products.

Coalition in Iraq continues to dwindle
It's a coalition of the dwindling. The U.S.-led multinational force in Iraq is losing two of its most important allies — Italy and South Korea — and up to half a dozen other members could draw down their forces or pull out entirely by the end of the year. The withdrawals are complicating America's effort to begin extracting itself from the country, where a fresh onslaught of deadly attacks on coalition forces is testing the resolve of key partners such as Britain and Poland to stick with the mission despite the dangers.

Parents: Iraqi Massacre Traumatized Marines
http://www.breitbart.com/news/2006/05/30/D8HU3C500.html
"He had to carry that little girl's body," she said, "and her head was blown off and her brain splattered on his boots."

In Haditha, Memories of a Massacre

The Apache Killing Video
This video has caused a great deal of controversy. Originally shown on ABC TV, it was first shown as an object lesson as to what happens to Iraqi Insurgents who dare show weapons before US forces. However, as time goes on, doubt has begun to surface as to whether the people shown blown to pieces with the 30mm cannon on the Apache were really insurgents, or just harmless farmers.

Anti Iraq-war protesters hit with pepper spray
http://news.yahoo.com/s/ap/20060530/ap_on_re_us/port_protest;_ylt=AurVan6_owtnFQsxPq_Z3hhvzwcF;_ylu=X3oDMTA5aHJvMDdwBHNlYwN5bmNhdA
Protesters chanted "Out of Olympia, Out of Iraq" as they rocked a chain-link gate to the port late Monday, and at least three tried to use wooden boards to pry the gate open, The Olympian newspaper reported. A 50-ton piece of equipment was moved to reinforce the gate on the other side. Police and sheriff's deputies clad in riot gear fired at least four rounds of pepper spray in an hour after asking the demonstrators several times to stop, authorities said. No one was arrested, but paramedics were dispatched to treat some activists.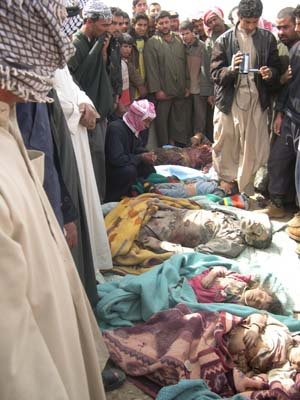 Marines may have murdered
http://www.freep.com/apps/pbcs.dll/article?AID=/20060527/NEWS07/605270341/-1/BUSINESS07
A separate investigation is aimed at determining whether Marines lied to cover up the deaths, which included women and children.
Number Of Iraqi Civilians Slaughtered In Bush's War? As Many As 250,000!

http://www.marchforjustice.com/shock&awe.php